Clarinet
---
SATSUKI GOH FAMA Senior Teacher-Featured Teacher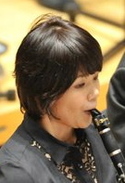 Satsuki studied Clarinet at Osaka College of Music and graduated with a first-class honors degree. During the final year at college, she won a concerto competition with a dazzling performance of Weber's Concerto. She was also selected to perform with Asian Youth Orchestra after her graduation.

Currently, she is an active Clarinet teacher and a member of Clarinet Concord Quartet and Windstars Ensemble in Singapore.
Testimonial:
"I joined FAMA because it specialises in woodwind instruments and the instructors are professional in their instruments. In just three lessons, I learnt much about my embouchure and getting a better tone. I am also made more aware of my rhythm and how to play on time. My teacher, Satsuki Goh has been very encouraging and patient in her guidance. I felt significant improvement in my playing and this made me more passionate about music."--Ryan Yap, Clarinet Student

---
---
LI XIN SSO Associate Principal Clarinetist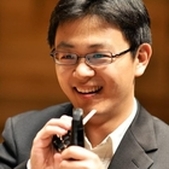 Li Xin completed his Bachelor degree of music with a full scholarship awarded by Yong Siew Toh Conservatory of Music at National University of Singapore. In April 2005, Li Xin was among the first group of six Conservatory students selected for Yong Siew Toh Conservatory Fellowship Programme at the Peabody Conservatory of Music in Baltimore, USA, where he received coaching from Peabody faculty, as well as the clarinettist in Philadelphia Orchestra and the professor at Julliard school.

In the past years, Li Xin performed often with the conservatory orchestra in China and solo performance at Shanghai Concert Hall. In Singapore, he performed with the Conservatory Orchestra often as principle clarinet and as a member of a Conservatory Wind Quintet. He also played in the Peabody Symphony Orchestra, Singapore Symphony Orchestra, the Malaysian Philharmonic Orchestra and as Principal clarinet in Macao Orchestra. He often goes to the international music festival as well, like Asian Youth Orchestra, the Canton International Summer Music Academy, where he performed with some renowned soloists and conductors, such as Martha Argerich and Charles Dutoit.

In 2007, Li Xin continued his studies in Europe, where he received lessons with the clainet professor in Geneva, Zurich and Lyon. He was accepted as freelance musician in the Orchestra of Zurich Opera and the Orchestra Musikkollegium Winterthur in Switzerland. He is currently the Associate Principal Clarinetist at the Singapore Symphony Orchestra.
---
---
YOKO LIU SSO Clarinetist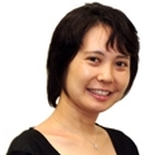 Yoko Liu was born in Yokohama, Japan and studied at Tokyo College of Music. Upon graduation from college in 1993, she participated in Aspen Music Festival in USA as scholar. In 1995 she began to study with Professor Francois Benda at Musik Akademie der Stadt Basel, Swiss and had many experiences to perform at Sinfonie Orchester Basel and Radio Sinfonie Orchester Basel as trainee in 1996-97.

In July 1998 she played a concerto by Gotokovsky as soloist with Sinfonie Orchester Basel and graduated the Akademie with Soloist Diploma. After coming back to Japan, she expanded her activities there, for example having her solo recitals three times in Tokyo, Yokohama and Fukuoka and performing at many different orchestras in Tokyo, Osaka, Kanazawa, etc. In 2001 she joined Kyushu Symphony Orchestra and contributed for four years. Yoko is a clarinetist at the Singapore Symphony Orchestra since 2007.
---
---
TANG XIAO PING SSO Assistant Principal Bass Clarinetist & Section Clarinetist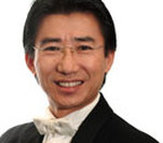 Tang Xiao Ping began learning the clarinet at the age of nine. In 1983 he was admitted to the Central Conservatory of Music in Beijing, China. Two years later he won Third Prize in the Beijing Youth Clarinet Competition. He graduated with high grades and was accepted into the Central Opera Theatre Symphony Orchestra as their Principal Clarinettist. In 1994 he was accepted into Boston University to pursue his Artist Diploma where he studied with Dr Ethan Sloane. The following year he was nominated as the most outstanding student in the University which also earned him a Dean's Scholarship. His other interests include photography and fishing.
---
COLIN TAN FAMA Senior Teacher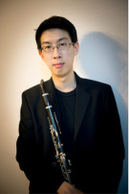 Colin first began his musical studies at the Nanyang Academy of Fine Arts and latter in the United Kingdom where he was awarded his degree and Postgraduate Diploma (Dist.). He has had the opportunity to partake in various platforms ranging from the Training Scheme with the City of Birmingham Symphony Orchestra, obtaining the Wilfred Hambleton Clarinet Prize to coaching the Junior Department of Birmingham Conservatoire as a Leverhulme Mentor.

He is currently an Independent musician and Peripatetic instrumental tutor.
---
---
---
RICHARD PNG FAMA Senior Teacher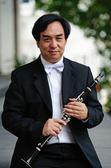 Richard graduated from the National Institute of Education, Singapore (NIE/NTU) with a Specialist Diploma in Band Directing (Distinction) and Diploma of Performance from Associated Board of the Royal Schools of Music (ABRSM), Jazz Performance Certificate from GuildHall (UK) and brass and percussion certificates from ABRSM. He won the Hedy King Robinson's Award (UK) for Music Theory.

Richard has been a school band director since 1986, with 28 years of teaching experience. For his inaugural SYF Band Competition in 1982, Richard won a Gold Medallion for his alma mater, Raffles Junior College. Thereafter he has conducted bands from Polytechnics, Junior Colleges and Secondary/ Primary Schools in local performances, competitions and overseas, winning accolades and honours.

As a performer, Richard's main instrument is the clarinet but he plays all wind and percussion instruments proficiently too. He has performed with the National Institute of Education Symphonic Band, National University of Singapore Orchestra, Singapore Teachers Band. Currently, he is the Concertmaster and a member of the Board of Directors for the Singapore Wind Symphony. He is also a member of the Band Directors' Association (Singapore) as an Assistant Secretary, World Association of Symphonic Band and Ensemble (WASBE), Asia Pacific Band Directors Association (APBDA), International Society of Music Educators (ISME), International Clarinet Association (ICA) and International Association of Jazz Educators (IAJE).

As a composer and arranger, Richard has written more than 50 works, of which three, namely "881 Medley", "Forever Yours for Solo Trombone" and "Mai Pen Rai (Chang and Eng)" were commissioned and featured by the Singapore Wind Symphony with Dick Lee. Published works including "Stand Up for Singapore" had also being performed and recorded by Florida University Band and conducted by Dr Waybright. His arrangement of "Count On Me Singapore" was also selected for SG50 Celebrations to be distributed to all schools for performance. Richard had guest conducted Chinese orchestra and choirs and adjudicated music competitions too.

In his free time, Richard enjoys travelling, fishing, bowling and tantalising all manners of good food. He also enjoys writing music and learning languages.

---
---
DANIEL ONG FAMA Junior Teacher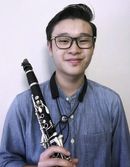 Daniel Ong is currently an undergraduate at the Nanyang Academy of Fine Arts, where he studies under the tutelage of Tang Xiao Ping, Associate Principal Clarinet of the Singapore Symphony Orchestra.

Daniel's love for music developed in 2006 when he was assigned the clarinet in the Jurong West Primary School Concert Band, under the guidance of his band directors Matthew Aw and Jonathan Lim. He then joined the band in secondary school and the rest is history.

To date, Daniel has performed with various ensembles including The Philharmonic Winds, NAFA Orchestra, NAFA Wind Ensemble, AudioImage Wind Ensemble and the Singapore Wind Symphony. He also participated in the Clarinet Choir for the Singapore Clarinet Festival in 2015. Most recently, his clarinet ensemble, the Arc Quartet, clinched the 3rd prize (Gold Award) in the Open Category of the Nanyang International Music Competition 2017.

Away from the Clarinet, Daniel enjoys great conversations over a cup of coffee and indulging in his favourite Bak Kut Teh.

---