Bassoon
---
TIAN AW YONG FAMA senior Teacher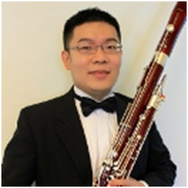 Tian was the first graduate from the Yong Siew Toh Conservatory of Music, finishing his Bachelor of Music with first class honors. He studied with Zhang Jin Min (Principal Bassoonist of the Singapore Symphony Orchestra) for three years at the Conservatory before heading off to the Berne University of the Arts for Konzertdiplom studies with Lyndon Watt (Principal Bassoonist of the Munich Philharmonic Orchestra). He went on to further his studies in bassoon and baroque bassoon at the Hochschule für Musik und Theater München. He also studied the contrabassoon with Vincent Godel (Principal Bassoonist of the Orchestra della Svizzera Italiana).
He was also a recipient of the National Arts Council Arts Overseas Bursary (Singapore) and the "Gebrüder Mönnig – Oscar Adler &Co." & "Frank & Meyer Holzblas instrumente Berlin" scholarship for the bassoon master class with Professor Klaus Thunemann. Tian was also presented a scholarship recipient of the "Yehudi Menuhin Live Music Now" and was an academist member of the Bavarian Radio Orchestra.
Tian has collaborated with different ensembles such as the Munich Philharmonic Orchestra, Singapore Symphony Orchestra, Bieler Sinfonie Orchestra, Singapore Lyric Opera, Berner Chamber Orchestra, Chamber Orchestra Munich and the Philharmonic Chamber Orchestra. In addition, he has performed widely with the Munich Wind Quintet(
http://www.muenchnerholzblaeserquintett.de/
), Nexus Wind Quintet, Fribourger Wind Quintet und Conservatory Wind Quintet. As a soloist, he has performed with the Singapore National Youth Orchestra, Conservatory Wind Ensemble and has given many solo recitals. Tian has the privilege of having masterclasses and lessons with Klaus Thunemann, Eberhard Marshall, Bernard Garfield, John Cran, Alberto Grazzi, Sergio Azzolini, Lyndon Watts, Barry Tuckwell, Maurice Bourgue, Henrik Rabien, Robin O' Neill, Benkocs Tamas, Daniel Hrinda, Catherine Maguire, Frank Forst, Stephan von Hoff, Gabor Meszaros and Afonso Venturieri. He has collaborated with renowned musicians such as Charles Dutoit, Yan Pascal Tortelier, Lan Shui, Martha Argerich, Yefim Bronfman, Renaud Capuçon, Gautier Capuçon, Teri Murai, Robert Carsteels, Thomas Rösner, Facundo Agudin, Qian Zhou, Alexandre Dubach, Barbara Doll, Nikolaj Znaider und Kirill Gerstein etc.
In his leisure time he enjoys a good jog or swim when not bassoon-ing.
Watch Aw Yong on youtube
here
Aw Yong Tian plays
" Guanabara Bay"
with Principal, Lin Shumei
Aw Yong Tian plays
"Lupin, the pot-bellied Pig"
with Principal Lin Shumei