FAMA 5 PROMOTION | 50% OFF ALL FIRST CLARINET TRIALS
Whether you are looking for a clarinet taster first to consider for self-development, or somewhere where you can master your clarinet skill with proven teachers, methods and results, Flute and Music Academy will be the perfect place to help you achieve your dreams!
​
We also make it simple and easy to start this course. You don't even need to get a Clarinet yet for this trial. Many people are also surprised that they can make sound and play a recognizable tune by the end of first lesson.

"I joined FAMA because it specialises in woodwind instruments and the instructors are professional in their instruments. In just three lessons, I learnt much about my embouchure and getting a better tone. I am also made more aware of my rhythm and how to play on time. My teacher, Satsuki Goh has been very encouraging and patient in her guidance. I felt significant improvement in my playing and this made me more passionate about music." (Ryan Yap, Clarinet Student)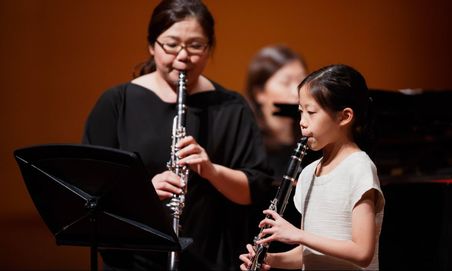 ​Flute and Music Academy is celebrating our 5th Anniversary this year! Supported by Singapore Symphony Orchestra's Clarinet players, Windworks (Repair), MusicGear & The Bandworld (Instruments and Accessories), we have proven to be the No.1 Woodwind Music School in Singapore.

In the last 5 years, our ABRSM results for flute, saxophone, clarinet and oboe have consistently been at 98 – 100% of distinctions or merits. We have also 6 High ABRSM Scorers for Flute, Saxophone and Clarinet for the last 3 years, which even the Singapore ABRSM Exam Manager was amazed when she called to congratulate us!

And wait, this is best part: to celebrate our 5th anniversary, we will be offering all first Clarinet trials at 50% off for Beginners. There will be 50% off for starter kit too if you have none. The starter kit includes Mouthpiece, Ligature and Reed for personal hygiene (~$42 for this promo)

It must end by 7 August 2017!

Grab your chance now before the slots are taken again!